Nation Red [Steam Gift/Region Free]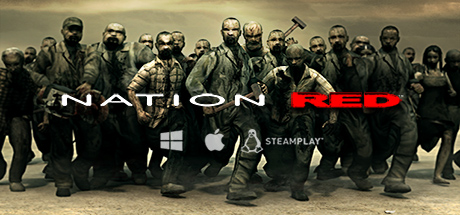 Nation Red is an ultra fast infinite play arena-based shooter providing an exceptional close-quarter battlefield experience. Fight thousands of zombie mutants and their bosses in frantic bloody gameplay while earning close to 100 perks. Fight in Barricade, Survival or Free Play mode. Play On-Line in coop, in single player or in local coop!
August 17, 1977
Scattered groups of zombies infiltrate remote Midwestern towns. Incapable of using tools or weapons, the invaders are resisted until they retreat back into the desert. Special elimination posses are set up to hunt down any of the surviving undead. Six weeks after the squads started their search-and-destroy mission, the last known zombie was shot and killed.
Present-day
Over thirty years had passed when a truck driver traveling down a desolate Arizona road plows into a wall of undead. Before the driver´s phone signal went dead, he reported some were carrying guns... They´re back and now they are hunting us.
Steam Exclusive Features:
Local and On-line Coop — Take on the horde and earn perks together
Barricade Mode — Defend your base against zombie attack
Over 100 Steam Achievements and a dozen Leaderboards
30 Additional Steam User-designed Perks
Xbox 360 Controller support for single or multiplayer
Steam Hammer — Rips the skin off your opponent (nice)
New Steam User designed weapons — Minigun, AA-12, MP5, Beretta 93R, Super Shorty and more
New Levels and New Enemies — Zombie patients and caretakers in a desert asylum, Brawler boss zombies, Suicide bomber zombies..
Pneumatic Destroyer — Detonates the Rammer they are surrounded by zombies
---
Цена:
29.99
руб.
Купить или узнать подробнее
← Назад на главную страницу