Radical Spectrum: Volume 2 STEAM KEY REGION FREE GLOBAL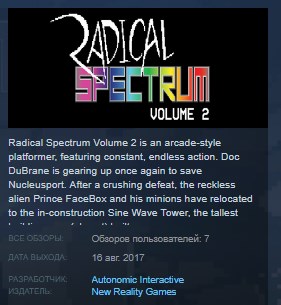 https://store.steampowered.com/app/661300/Radical_Spectrum_Volume_2/
????????????????
STEAM KEY REGION FREE GLOBAL
Radical Spectrum Volume 2 is an arcade-style platformer, featuring constant, endless action.
With over 10,000 unique levels and 4 bosses governing each one with their own set of weapons, every new attempt will be a new experience.
RSV2 was made for instant drop-in-and-play action; there´s nothing between you and the core experience. It´s a distilled and efficient platforming playground with infinitely increasing difficult, multiple playable characters, boss battles, powerups, and probably lots and lots (and lots) of dying.
Doc DuBrane is gearing up once again to save Nucleusport. After a crushing defeat, the reckless alien Prince FaceBox and his minions have relocated to the in-construction Sine Wave Tower, the tallest building ever (almost) built.
Their heinous mission? To dump all the radioactive waste from their own planets on an already highly-irradiated Earth. Doc, using the genius invention the Prisma Cannon, is the only one who can climb the tower and stop those stupid jerks. So get out your haz-mat suit, finish whatever it is you were doing, and get ready to get radical.
Main Features:
Instant, endless platforming
Infinitely increasing difficulty
Over 10,000 unique levels
5 playable characters
4 radical boss fights
A killer soundtrack by Bit Level Up
Gamepad support
---
ИНСТРУКЦИЯ ПО АКТИВАЦИИ:
1. Необходимо скачать и установить Steam http://steampowered.com/download/SteamInstall.msi
2. Зайти под своей учетной записью или зарегистрировать новую.
3. Перейти в раздел "добавить игру" и выбрать "Активировать через Steam...", ввести ключ полученный после оплаты.
Цена:
7
руб.
Купить или узнать подробнее
← Назад на главную страницу